冲击铆机
Impact riveting is an assembly process using impact force to permanently fasten components together. There exist a wide variety of rivet materials, rivet designs, and component types which can be assembled using the impact riveting process to join parts quickly, efficiently, and lastingly.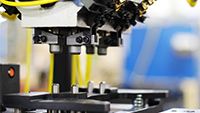 Loading...
Orbitform designs and manufactures multi-hit impact riveting machines to help improve your productivity, reduce assembly process cycle time, enhance product quality, and save floor space. The multi-hit impact riveting assembly systems from Orbitform start from the basic fixed center Milford riveter and progress to complete automated assembly systems with several riveting heads and other special features including, material handling, error proofing, automated quality checks, and other advanced assembly options.
Riveting 2 Rivets Simultaneously with Milford Fixed Center Machines
Orbitform's Milford fixed center Multi-Hit riveting machines insert and upset two (2) rivets simultaneously with the rivets being as close as 0.25 inch (6.4 mm) apart when measured from the center of one rivet to the center of the other rivet.
The minimum center distance between rivets is dependent on the size of the rivet heads while the maximum rivet spacing for the Milford fixed center assembly machines is 4 inches (102 mm). Typical applications for Milford Multi-Hit riveters include circuit breaker assemblies, automotive hardware, tools, and ladders.
Adjustable Center Distance Multi-Hit Riveting Machines
Orbital also offers adjustable center distance impact riveting machines for assembly applications where the distance between rivets differs from part to part. The adjustable center distance impact riveting systems are perfect for consolidating multiple riveting machines into one unit, thus reducing floor space consumption and delivering a better return on investment.
Multi-Hit Riveting with Automated Assembly Systems
Impact riveting assembly applications requiring pneumatic, mechanical, hydraulic, or hydra-pneumatic powered riveting machines can be improved with Multi-Hit riveting machines from Orbitform. Orbitform has extensive experience integrating several riveting heads into semi-automatic or automatic assembly systems to help your production process assemble products faster, with higher quality, with fewer operators, and with reduced floor space needs.
Do you have a potential Multi-Hit impact riveting or assembly application? If so, please contact Orbitform so we can help you design and build the proper assembly solution.