夹具开发
All Orbitform tooling is designed, developed, manufactured, and tested in-house...at Orbitform. Thereby eliminating the finger pointing found with some assembly equipment suppliers. In addition, our engineers can make recommendations based on your assembly application to deliver ideal tooling for your assembly machine(s). We look forward to helping improve your assembly process.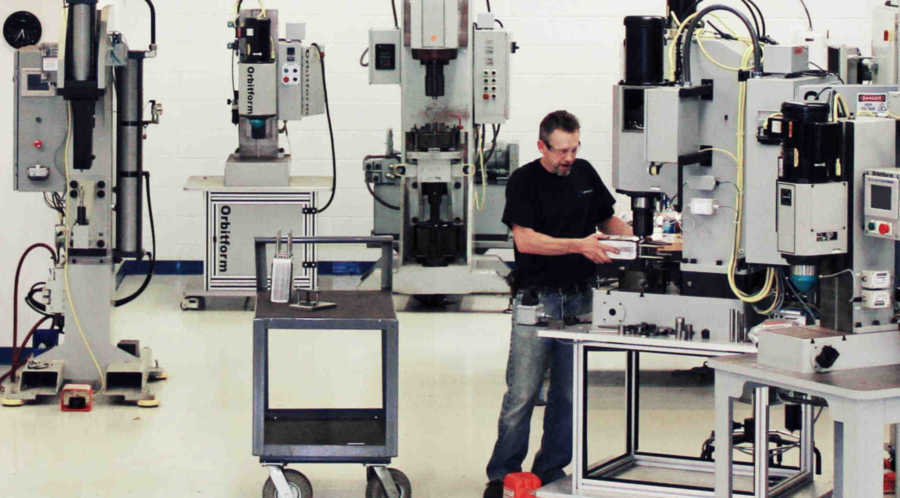 主要特点
In House Capability
We build the tools. We test the tools. Rest assured rivet machine tooling from Orbitform will function as required whether the tooling is for an orbital riveting machine, an impact riveting system, a radial forming assembly cell, or a hot upset riveting station.
Reverse Engineering
If you have a riveting machine or assembly system built by someone else, but you are not satisfied with their performance, please send your machine tooling to Orbitform and we will supply you with riveting tooling to help enhance your assembly process.
Quality Control
Skilled machinists and tool builders combined with standardized setups and proven machine programs allow Orbitform to maintain the tight quality control our customers require for effective assembly tooling.
Dedicated Machine Shop
Orbitform's in-house machine shop, fabrication abilities, testing equipment, and riveting expertise result in a winning solution for your rivet machine tooling needs. We do it all and we do it well.
Functional Testing
Orbitform has the test equipment, riveting process knowledge, and highly skilled and experienced people to test the function of your riveting tooling. We love a challenge so please let us know how we can help you solve difficult assembly situations.
Short Lead Times
Orbitform's ability to design, manufacture, and test spare parts and tooling in-house allows us to have industry leading lead times. If you need riveting tooling quick there is no other place to turn than Orbitform.