装配交钥匙工程
We utilize every single one of our areas of expertise to offer our customers the answer to their assembly equipment goals. When you need to optimize your fastening or assembly process, Orbitform is the industry leader. We offer a wide range of automated assembly system options to help you increase throughput, reduce cost, improve quality, and satisfy your customer. Our unbiased approach assures you will receive the correct assembly system to fit your requirements.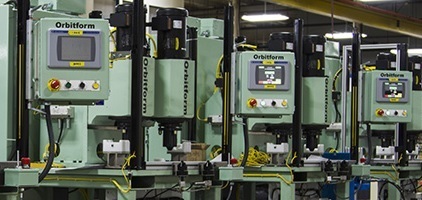 主要特点
Dial Machines
In-house design, build, and testing allows Orbitform to exceed your assembly process expectations when an indexing dial machine is required to meet cycle time, labor, and floor space parameters. We can show you many examples of prior index machine projects we have built for our customers.
Robot Integration
When your assembly process can benefit from robotic integration, Orbitform is the assembly system provider you want. Our engineers and machine builders have extensive experience including robots into fastening and assembly automation. We would be happy to help you improve your assembly process.
X-Y Slides
There are times when a simpler automated solution can do the trick. X-Y slide automated fastening and riveting machines built by Orbitform provide your factory a flexible assembly system that can be modified to assemble other products in the future.
Conveyor Integration
Here at Orbitform we don't just integrate conveyors and material handling, we also design and build our own line of
Orbitform material handling solutions
. Be confident that an automated assembly solution with
Orbitform conveyors
will satisfy your assembly process requirements.
Design and Build
If possible, it is often best to reduce the number of companies involved in the design and build of an automated industrial assembly system. Orbitform does it all from concept development, to design, manufacturing, machine build, to system testing...all the way through installation support at your facility.
Automation Expertise
Your assembly process will benefit from our 30 years of riveting, fastening, and assembly solution design and build experience. Put our team to the test. Our technical team is second to none and we appreciate a good challenge!